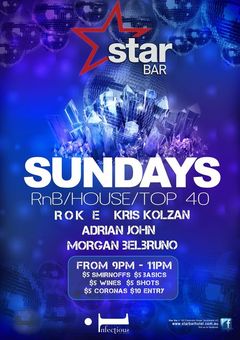 Night:
Sunday

@ Star (Bar)

Short desc.:
Legendary Sunday. Been running forever.
Status:
Weekly

(Sunday)

Music:
RnB/Funk, House, Com/Top40
DJs:
Rok E, Kris Kolzan, Adrian John, Morgan Belbruno
Band:
-
Dress:
Trendy, Smart, Neat Casual
Age group:
20-23, 23-25, 25-27, Over28
Covercharge:
$10
Specials:
9-11:$5Smirnoff,$5Basics,$5wines,$5shots,$5Coronas
Hours:
9pm-3am
Correct at:

Jul 26 '12

(Max Moose)
Address:
160 Clarendon St, Sth Melbourne
Links:
Photos
The info above can get out of date quickly.
For the latest info, please check the venue's website.