Chris & Mike wish you a very Merry Christmas & a Happy New Year. We would like to
thank all the staff, security, managers, djs, bands, promoters, hosts & most importantly
you the patrons for making us the number 1 promoters in the suburbs for 2009.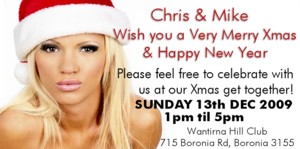 www.myspace.com/laybacksundays

We are running 2 huge New Years Eve parties. Tickets
are presold only so be sure to get yours now or miss out!




Each and every Thursday, Friday and Saturday night we host the suburbs biggest nightclubs.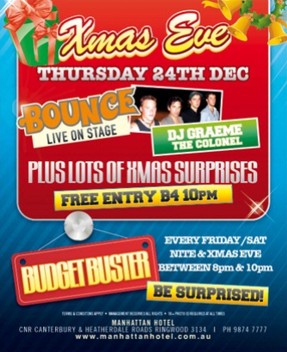 www.myspace.com/manhattanthemeetingplace


www.myspace.com/tomthumbchadstone


www.myspace.com/thevoltnightclub


www.myspace.com/glacierbar


Coming in January 2010 is the launch of entertainment at the Westend Market
Hotel with Adam 12 Monday January 25th. In February 2010 we will be launching
4 hot new suburban nightclubs... for more details please call 0401 409 103.

Looking forward to seeing you soon

Regards

Chris & Mike